A New Book About The Most Beneficial Way to Build a Profitable Business With Low Risk, Small Budget, and Very Little Sales Skills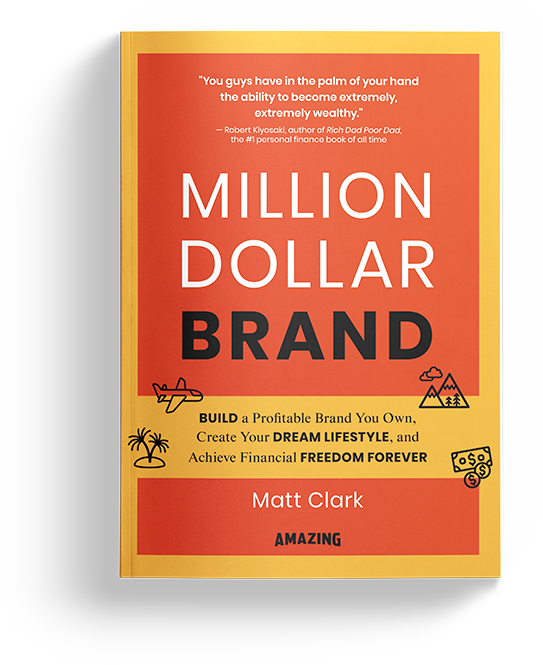 The book is called "The Million Dollar Brand" and is written by a successful young entrepreneur, businessman, founder of Amazing.com Matt Clark.
The premise of the book maybe sounds too fluffed up or too good to be true since it's full title with subtitle goes:
Million Dollar Brand:
Build a Profitable Brand You Own, Create Your Dream Lifestyle, and Achieve Financial Freedom Forever!
But this is one of those books that delivers exactly what is in such a "bold" but motivating and inspiring title.
We did the deep background check on Matt Clark his businesses & brands that he created, and also the Amazing.com eComm Training Company.
ASM course is one of the most popular and on-demand training program on how to start an e-commerce business and build your own on-demand and highly profitable product brand and much more from the comfort of your home where all you need is just an internet connection and laptop or PC.
Hence, perhaps one of the newer Android smartphones or iPhone would do the job in these days.
But this all happened many years ago, way before he wrote this book when we've done took a good look at who is this young and successful entrepreneur and whether he and all he does is legit.
And guess what, we still wouldn't change our opinion and view about Matt and Amazing.com company.
Perhaps, the only things to add are that since the beginning and the first day of the ASM (Amazing Selling Machine) course launch, the company and popularity just grew by multiple digits every year.
Nowadays, The 12th Edition of ASM is undoubtfully the best training, community, and resource on the internet to learn the most up to date and effective information and skills to create a successful business.
The eCommerce business, especially today, if build step-by-step how Matt Clark and other ASM coaches are teaching inside the course, is also the least risky and fastest way to achieve financial independence and freedom once for all.
The successful investor and famous author of Rich Dad Poor Dad, Robert Kiyosaki said that "Anyone holding this book possesses in their hands the ability to become extremely wealthy."
We are not going to go too deep into the content of the book and leave it for you to explore.
But we would like to provide a general view on the overall theme and broad summary of what is it about and who will benefit from reading the book the most.
The people who will definitely benefit from this book are those types of hard-working individuals who are tired of spending their precious time on constantly supporting other people's ideas and building someone else's dream instead of own.
If you think that you are one of those people that fit this exact category, then Congratulations!
This book is a great starting point to grasp and the idea behind the entire online business market, the best ways to tap in, and profit big!
And if you are already beyond the point of doubt and want to start building your million dollar business as fast as possible, we recommend to get along with the free book, the new ASM 12 online course with all the valuable bonuses.
This exact business model that Matt talks about in his book will allow you to:
more personal freedom

more time to spend with family and friends

more time to spend on yourself, your health, and your hobbies

more money than you ever had (of course, if everything is done correctly)

and most importantly the peace in mind, the stress-free life where you enjoy every second of it
Now just to make something clear, all this requires a lot of learning and hard work especially from the start, but it's also faster and easier to achieve than most people would think.
Well, as they say, "You never really know until you get there".
Also, it's important to mention here that almost every online business model where you are in charge of your business (not the employee) will provide you with more money and freedom and less stress, the ASM eCommerce is just the safest, fastest, and least resistant way since there is already a massive growing demand on the market.
Your Personal success in life is always in your own hands and it's your own responsibility to achieve it.
But with the right plan, the Map, you can save yourself many years and get there much faster.
It all depends and comes down to what type of person you are – Driven high energy performance achiever willing to take your own chances or down to earth thinker who prefers to take time and never take risks into consideration in order to pursue the freedom, wealth, and overall happiness.
Get the Book!